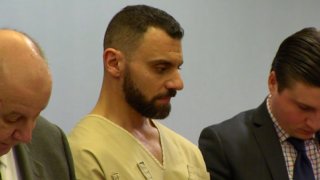 An Ellington, Connecticut man accused of killing his wife after giving an account of her death that police say differed from Fitbit information has pleaded not guilty.
Richard Dabate, 40, appeared in court on murder and other charges in the December 2015 slaying of 39-year-old Connie Dabate and his attorney entered the pleas.
Dabate was arrested two weeks ago and posted $1 million bail.
He told authorities a masked man entered the couple's Ellington home, shot his wife and tied him up before he burned the intruder with a torch.
However, police said Connie Dabate's personal tracking device logged steps after the time her husband told them she was killed. They also said he had a pregnant girlfriend.
He declined to comment Friday and his case was continued until June 16.
Copyright AP - Associated Press