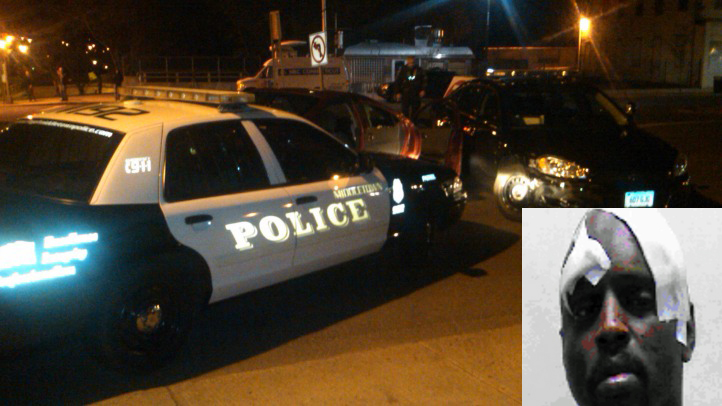 A New Haven man is in custody, accused of leading police on a chase through two towns and hitting multiple cruisers and cars on Friday night.
Iieboi Holmes, 38, led police on a chase through Portland and Middletown, police said.
A Portland police officer spotted Holmes in a 2005 red Pontiac driving erratically over the Arrigoni Bridge on Route 17 around 10 p.m. and attempted to pull him over, police said.
Holmes made a U-turn at Grand Street and headed north on Main Street, weaving in and out of traffic and hit a car and a Middletown police cruiser in the northbound lanes of Main Street, police said.
Officers pursued as Holmes got onto the Arrigoni Bridge and ran a Middletown police cruiser off the road and into a ditch, struck two Portland police cruisers and continued back onto Main Street, southbound heading toward Middletown, where Holmes struck another vehicle on Main Street before speeding back toward the Arrigoni Bridge, police said.
Middletown officers used stop sticks to attempt to stop Holmes as he came back over to the Middletown side of the bridge.
A Portland officer also pulled his cruiser in front of the Pontiac, attempting to stop it before it headed toward the crowded Main Street intersection, but Holmes rammed his car into the officer's cruiser, which caused the Pontiac and the cruiser to spin out at the intersection of King's Avenue, police said.
As Holmes tried to escape, he backed into a Middletown police cruiser that was directly behind him and became boxed in by a third Middletown cruiser, police said.
Officers forced Holmes out of the Pontiac and took him into custody after he refused to surrender and threatened the arresting officers and their families.
After checking the registration of the Pontiac, officers discovered the car was stolen out of West Haven. Police also discovered Holmes had an active warrant for his arrest for escaping from a halfway house said police.
The Department of Correction was contacted and a remand to actual custody order was signed.
Holmes was charged with seven counts of assault of police officers, interfering with an officer, third-degree assault, reckless driving, evading responsibility-property damage/injury and second-degree threatening.
A couple of Middletown officers sustained minor injuries.
Holmes is being held on a $150,000 bond in Portland.