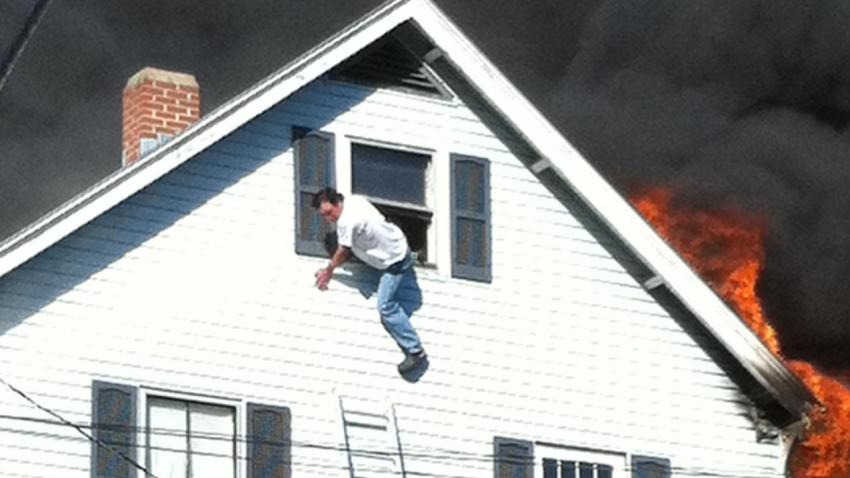 As Juan Diaz hung out the third-floor window of his burning Willimantic home, flames burned feet away.
He was trapped in his apartment and escaped the only way he could -- through the third-floor window.
He said he was losing feeling in his fingers as he hung out the window for what felt like 20 minutes.
Video posted on YouTube captures about two minutes of the ordeal. It shows Diaz climb out the window and dramatic images as emergency crews bring a ladder to bring him to safety.
Diaz lost everything in the Sunday afternoon fire. According to the American Red Cross, 26 people were displaced from the five-family home on Clark Street.
Now, Diaz is staying with his son, Silverio.
"He called me yesterday saying 'I'm trapped in my apartment. There's too much smoke to get out the door,' Silvero said on Monday.
A photo Nicole Cirifalco shared with NBC Connecticut shows bright orange flames feet away, burning the front of the house. Diaz hangs, precariously, with a ladder at least a foot out of reach. The video shows more of the rescue.
After firefighters rescued him, Diaz was taken to the hospital to be treated for cuts on his hands from breaking the windowpane.
The fire started when a pan of roasted chicken was placed on top of a pizza box, officials said. The box caught fire and a resident, who thought the fire was out, placed it on a back porch, where it re-ignited, setting the house on fire, Acting Chief Marc Scrivener said.
The house has been deemed a total loss and is expected to be demolished on Wednesday.