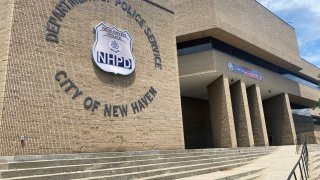 New Haven police have arrested a man who they said tried to steal the cash register from a Courtyard Marriot hotel early Thursday morning.
Officers responded to the Courtyard Marriot hotel on Whalley Avenue at 1:34 a.m. to investigate.
The front desk clerk told officers that she was eating dinner in the back room when she heard a commotion in the area of the bar and bistro, so she went to see what was happening and saw a man with a pair of pliers who was cutting the cables of the cash register, police said.
The clerk yelled at the male and told him to get out, police said.
He jumped over the counter and tried to run off with the register, but the clerk demanded that he leave it and he complied, then left the hotel, police said.
Police said they saw a man matching the description on Dixwell Avenue, arrested him and found a small pair of pliers inside his jacket, police said.