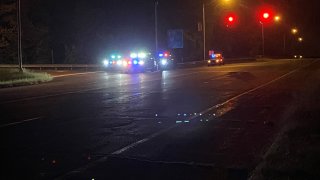 Connecticut state police said a man with gunshot wounds was found unconscious and unresponsive on an Interstate 91 exit ramp in Windsor Locks.
Officials responded to the exit 42 off-ramp on the northbound side of the highway at approximately 7:35 p.m. after receiving a report of an unconscious man on the highway.
The man's condition is unknown at this time.
The Central District Major Crime Unit is responding to the scene.
The exit 42 off-ramp is closed at this time. Anyone driving in the area is being asked to use alternate routes.
No additional information was immediately available.