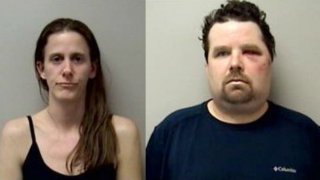 A Manchester elementary school teacher is on administrative leave after police say they found a marijuana growing operation, methamphetamine and other drugs at her Pine Street apartment.
Kirsten Dergosits, 45, and her husband, Robert, 41, were arrested April 23 after police searched their apartment and found marijuana plants, growing equipment, methamphetamine and cash, according to the Manchester Police Department.
Manchester school officials confirmed that Dergosits works at Robertson Elementary School. A school directory lists her as a third-grade teacher.
According to the superintendent's office, Dergosits was placed on administrative leave as soon as the school system found out about her arrest. School officials said they can't comment further because it's a personnel issue.
Manchester police said the East Central Narcotics Taskforce searched the Dergosits' home at Ribbon Mill Apartments at 150 Pine Street last Thursday.
According to the arrest warrant, Dergosits answered the door when investigators arrived and the apartment reportedly smelled of marijuana.
Dergosits admitted to smoking marijuana earlier that day, the warrant says. When police asked if there was anything illegal inside the apartment, Dergosits reportedly answered, "Not that I know of."
But investigators searched the apartment and found about 3.5 lbs. of marijuana with a street value of about $12,000, packaging material and drug paraphernalia, growing equipment, nine marijuana plants and 13 seedlings, about 22 grams of methamphetamine or MDMA and $4,306 in cash, police said.
Police seized those items, along with a television, cellphones and a computer, as evidence.
Kirsten and Robert Dergosits were both charged with a string of drug offenses, including possession and cultivation of marijuana, operating a drug factory, possession with intent to sell, possession of drugs within 1500 feet of a school and possession of cocaine and heroin.
They each posted $150,000 bond and will appear in court May 30.
Information on an attorney representing the couple was not immediately available.