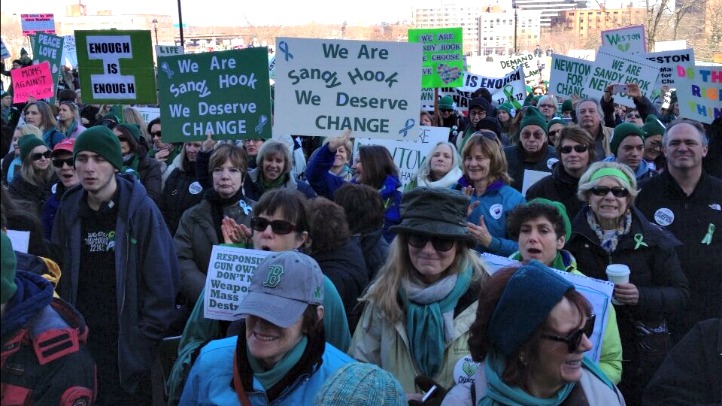 Thousands attended a rally outside the State Capitol in Hartford Thursday to support a change in gun laws.
The event, called a March for Change, coincided with the two-month anniversary of the mass shooting at Sandy Hook Elementary School. Wearing green and white, people in attendance said they want a ban on assault weapons and high-capacity magazines.
"Never should she have been faced with a gun," said Donna Soto, whose daughter, Victoria Soto, was killed at Sandy Hook Elementary School. "I think we owe it to Vicki. I think we, as a family, ow it to Vicki so that she didn't die in vain."
Capitol Police estimated about 5,500 people participated in the rally. Gov. Dannel Malloy was among the speakers at the event.
"What are we going to do to protect our children now that they're under open attack?" Malloy asked.
The March for Change movement was started by to mothers from Fairfield in the days after the Dec. 14 shootings at Sandy Hook that left 20 children and 6 educators dead.
Last month, hundreds of gun advocates spoke at a legislative hearing in favor of the rights of gun owners. The gun rights advocates said new gun laws will not make people safer, a notion with which attendees at Thursday's rally did not agree.
"How could anyone think that my son or anyone whose lives were stolen that day, were so disposable that it is acceptable to do nothing," said Veronique Pozner, whose son, Noah, was a first-grader killed in the tragedy in Newtown.