People in Litchfield County woke up to a bit of a surprise this morning - snow was falling at a steady clip! The official observer in Norfolk, Russell Russ, told me the snow was mixed with rain this morning from 8:00-9:00 and then at 9 a good burst of heavy snow occured. No accumulation occurred.
This snow was nothing like what occured 40 years ago in Connecticut. The infamous May 1977 snowstorm dropped an incredible 20" of snow in Norfolk and 1.3" at Bradley International Airport. Still, in Norfolk a trace of snow has been recorded 85 times since 1943 and there have been 16 instances of measureable snow.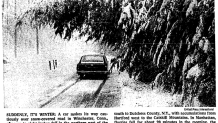 The storm was a ferocious nor'easter that was almost as unsual as the October 3, 1987 storm or October 30, 2011 storm with widespread tree and power line damage due to the large number of leaves on the trees.