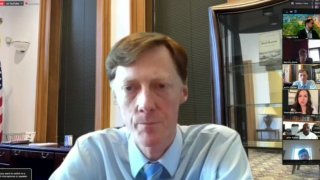 The mayor of New Haven said there are 361 cases of COVID-19 in the city and there have been 12 deaths.
New Haven Mayor Justin Elicker and New Haven Health Director Maritza Bond held a virtual press availability at 3 p.m.
Elicker said four members of the police department and seven members of the fire department have the virus.
He said 34 police officers are out, waiting on results, and six firefighters are out, waiting for results.
The people in New Haven who have died COVID-19-related deaths are between 42 and 93, officials said.
Bond discussed a new program through SeeClickFix focused on COVID-19.
All briefings are uploaded to the Mayor's YouTube Page at bit.ly/MayorYouTube.
New Haven has 319 confirmed cases of coronavirus, according to statistics the state released on Monday.
The state of Connecticut has had over 6,900 confirmed cases and at least 206 deaths.