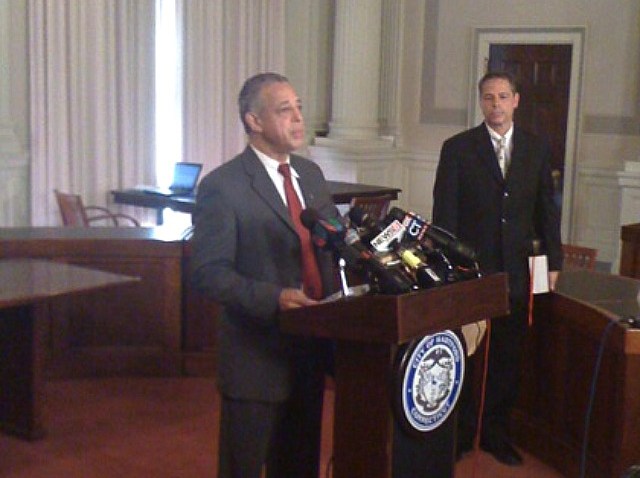 Pedro Segarra was sworn in as the new Mayor of Hartford shortly after 5 p.m. Friday.
He took the oath of office at City Hall, minutes after the resignation of Eddie Perez became official.
"It's a difficult time for the city, but we have to move the city forward," Segarra said moments before being sworn in.
It ended a week-long drama that began with the conviction of now former mayor Eddie Perez on corruption charges June 18.
He was born in rural Mexico and moved to the Bronx, New York when he was 7 years old. At 15, he moved to Hartford, seeking a better life, according to his biography on the City of Hartford Web site.

Segarra, who will become the city's first openly gay mayor, told the Hartford Courant that he wants to restore trust in city government.
"I hope there is a transformation in the way politics are done in this city, so we don't repeat the mistakes of the past," Segarra told the Courant.
Segarra, who was a founding member of the Latino Student Organization at the Greater Hartford, will be the city's second Latino mayor.
Perez handed in his resignation on Friday afternoon, effective as of 5 p.m.
Last week, a jury convicted Perez on five of six corruption charges and he faces up to 55 years in prison when he's sentenced in September.
Perez was convicted of receiving a bribe, attempted first-degree larceny by extortion, accessory to evidence tampering and two conspiracy counts -- all felonies.
The six-person Hartford Superior Court jury acquitted him of one count of tampering with evidence. Sentencing is scheduled for Sept. 10.
The trial focused on allegations that Perez accepted home improvements from a city contractor in return for keeping him on a lucrative $2.4 million construction project, and tried to extort a developer into paying $100,000 to a political ally.
Perez was arrested in January 2009 on charges he received the bribe from a contractor and friend, Carlos Costa, by paying only $20,000 for $40,000 worth of renovations, and only after he was questioned by a grand jury about the home improvements.
Costa told authorities he didn't expect to get paid for the home improvements because that was the "cost of me doing business with the city," according to an arrest warrant affidavit.
Perez, who had insisted on his innocence and vowed to clear his name, faces up to 55 years in prison, with each of the five counts carrying a minimum of one year in jail.
Perez is scheduled to be sentenced on Sept. 10. He plans to appeal.

Copyright AP - Associated Press