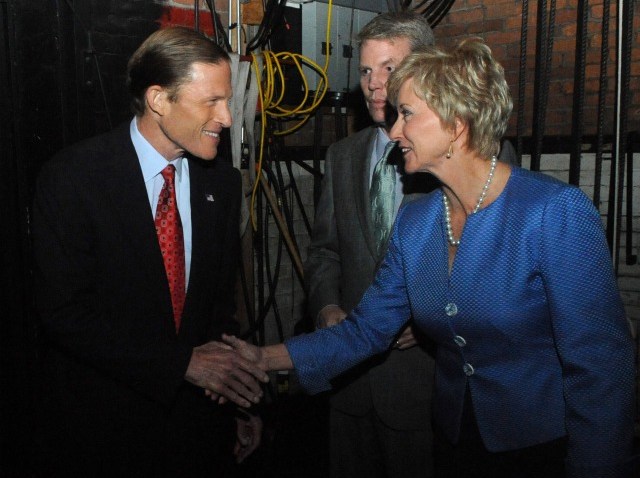 The day after the state Democratic Party accused Linda McMahon's campaign of illegal coordination with the WWE, McMahon's camp is accusing Richard Blumenthal's campaign of illegal coordination with Planned Parenthood to gather "mysoginistic" photos of women and the WWE.
McMahon, the Republican former CEO of WWE, and Democrat Attorney General Blumenthal are in a fierce campaign for Chris Dodd's Senate seat.
The e-mail, Politico reports, has the subject line: "Worst of WWE + women photos."
"Hey all — (Democratic consultant Andrew) Grossman is looking for mysoginistic photos of women and WWE. Planned Parenthood wants to hit LM hard on it," the Web site reports, citing an e-mail a press staffer sent to other aides to the campaign and the State Democratic Party. "What do we got?"
McMahon's campaign is alleging "illegal coordination.
"It's Friday, 11 days from Election Day and Dick Blumenthal's campaign is officially in the gutter," Ed Patru, communications director for Linda McMahon for Senate, said in an e-mail.
Ty Matsdorf, adviser to the campaign, said this is legal and no different than holding a joint press conference and that Planned Parenthood requested an image to send out on Twitter or in a press release, not in any paid advertising campaign.
The legality is not the issue, Matsdorf said, the issue is Linda McMahon's record with the WWE and promoting "violent, sexually explicit material."
On Friday afternoon, the state Democrats issued a news release with several clips from the WWE.
"This is Linda McMahon's record: marketing explicit sex, extreme violence, and the abusive, demeaning and degrading treatment of women to kids- all to make herself the millions in profits she's now using to try to buy herself a Senate seat."
In public appearances, McMahon has said WWE content is scripted entertainment.
Planned Parenthood also released a statement on Friday, saying the organization supports Blumenthal's candidacy.
"Blumenthal has been a strong supporter for women and women's rights," they said. ""On the other hand, Linda McMahon has no track record of supporting women's rights and she ran a business, which degraded and exploited women."
Patru sent an e-mail saying: "Dick Blumenthal's campaign is officially in the gutter."
Follow us on Twitter @NBCConnecticut, on Facebook, and sign up for breaking news SMS alerts on your phone by texting "CTBREAKING" to 622669.