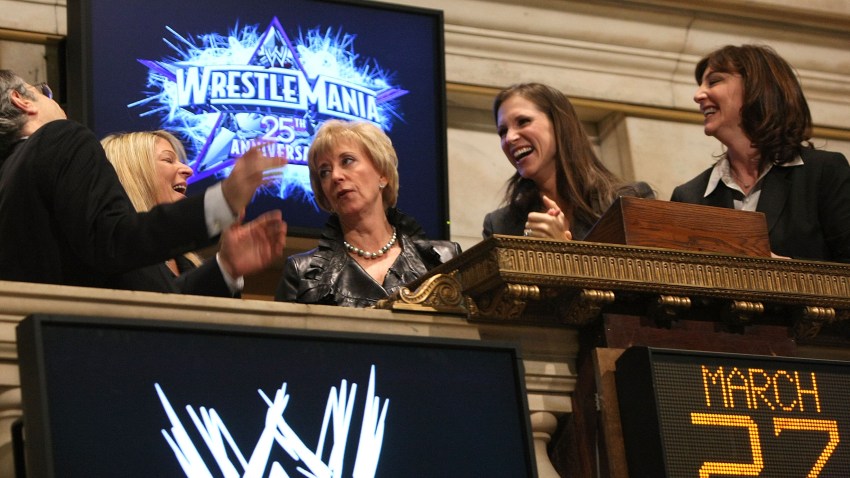 Fresh off her primary win, former World Wrestling Entertainment CEO Linda McMahon said she's ready to spend whatever it takes to beat Democrat Richard Blumenthal in the quest for a U.S. Senate seat.
McMahon took 49 percent of the vote on Tuesday night and beat out opponents former U.S. Rep Rob Simmons and financial pundit Peter Schiff.
On Wednesday morning, she appeared on a network news program, including NBC's Today Show, and brushed off accusations she made millions by promoting an industry allegedly rife with violence and steroid abuse.
"Connecticut Republicans today nominated a corporate CEO of WWE, who under her watch, violence was peddled to kids, steroid abuse was rampant, yet she made millions," Sen. Robert Menendez said, of the Democratic Senatorial Campaign Committee, said.
"WWE has had an evolutionary process of going TV-14 to TV-PG and over the last 20 years, it's really made definite changes in its content. What I'm prepared to talk about are the issues that are on the minds of people of Connecticut," McMahon said.
McMahon has said she plans to spend up to $50 million of her own money in the fall, telling the network: "It's money I've earned. It's money I'm willing to invest."
She had already self-financed almost $22.1 million as of July 21, according to the Center for Responsive Politics.
Anne Curry of the Today Show quoted McMahon as saying she did not buy a victory, she earned it, and asked why McMahon is spending so much money.
"I certainly started out way behind in terms of public recognition, name recognition. I've not been part of the political scene ever before and my opponents have had a long headstart, so it was important for me to get good name recognition," McMahon said.
McMahon, warned Democrats that a negative campaign against her could backfire.
Meanwhile, the Blumenthal campaign announced on Wednesday that it will begin airing its first television ad of the general election.
The ad, entitled "Stand Up", is a 30-second spot that was to begin airing on Wednesday morning on statewide television.
"There is a clear choice in this election, and this ad reinforces that Dick Blumenthal is the only candidate in this race with a record of fighting for the people of Connecticut and standing up to the special interests," said Mindy Myers, campaign manager for the attorney general.
Copyright AP - Associated Press