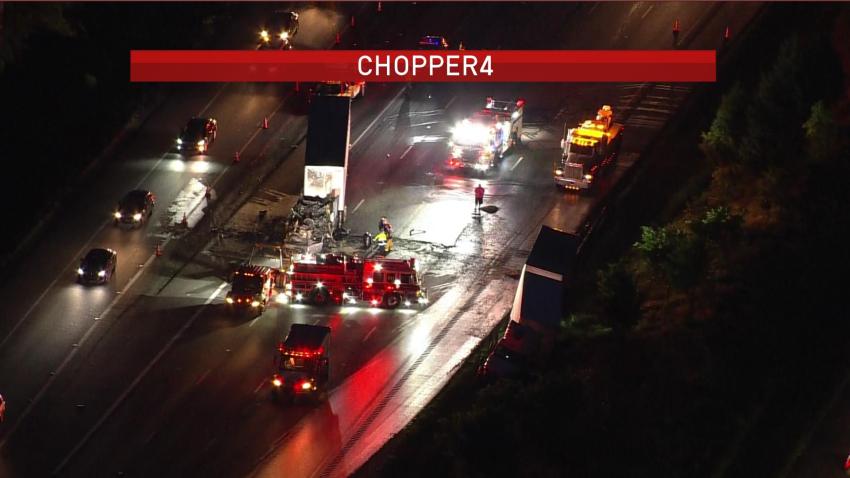 May 15th's storm provided the perfect opportunity to capture Mother Nature's fury, thought one Meriden photographer. Instead, Hailey Wilson found herself hanging on for dear life as trees fell and debris swirled around her inside Sleeping Giant State Park in Hamden.
Wilson was expecting a show in the sky when she climbed to the top of the tower trail to take pictures for her business, HIKED Productions. It is a hike she does three to four times a week.
"I thought there would be a lightning storm that I would be able to take cool pictures of from the top of the tower," she recalled.
Instead, Hailey found herself in the middle of a microburst that hit the park with 100 mile per hour winds. She only shot a few photos before she was forced to take cover inside the top floor of the tower.
"It felt like survival for about 45 minutes," said Wilson. "There were two gusts that were so loud and heavy and strong."
Those winds changed the landscaped. Once familiar, the tower trail now felt like an obstacle course to Wilson.
To capture how she felt in the moment, Hailey recorded herself.
"That was by far the most terrifying thing I've ever done," she said into her camera. "The trails look nothing like they did when I came up."
"I felt kind of alone for a minute because I knew there was nobody to get up and save me," Wilson reflected when we sat down with her on Saturday.
"Surrounded by splintered trees, as Wilson made her way down the trail she fully expected to find her car crushed in the parking lot.
"I'm ok and my car's ok," a stunned Wilson recorded herself saying. "Look at this. Look at this. Insanity. Look at the rest of the parking lot."
Panning over the parking lot with her camera, Wilson captured what the state park looked like in the moments after the storm barreled down. Trees were snapped in half like toothpicks and the roofs were torn off the outhouses.
Making her way back home to Meriden proved as challenging as getting down the mountain. Dodging fallen power lines and trees Hailey says it took her three hours to get out of Hamden.
Wilson says she watched the weather before she headed out on her hike. She felt more confident about her decision when she saw other hikers on the same trail. However, the ordeal has taught the 24-year-old a valuable lesson: don't mess with Mother Nature.
"I've realized the dangers of the storm and how terrifying, and how scary, and real it can get in a matter of seconds," Wilson said.
To see more of Hailey's photos, visit her Facebook page.