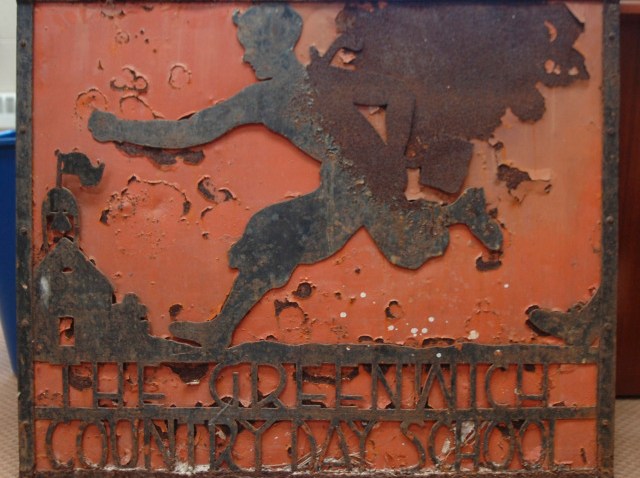 After missing for 43 years, the now rusted orange and black sign displaying Greenwich Country Day School's old emblem "the running boy," was long forgotten to the school. But one person had it on his mind the whole time – the guy who's had it all these years.
A former student had been holding onto the sign since 1967, and his dying wish was that it be returned to its rightful place. And that's what happened on Monday, the Connecticut Post reports.
It all started last week when
Adam Rohdie
, the head master of
Greenwich Country Day School
, received a call from attorney
Phillip Russell
. In this phone call, Russell explained that a client of his who had recently passed away requested in his will that the missing sign be given back to the school after his death.
"It is something that my client, who shall remain anonymous, had talked about for a long time," Russell told the Post. "He had asked for arrangements to be made for it to be turned over to the headmaster."
He told the Post he had noticed the sign in a picture, and wondered where it was now, but nobody was able to give him an answer. Russell could not confirm if it had ever been reported stolen.
"I was certainly intrigued to see what the sign looked like," Rohdie told the newspaper. "It's great in terms of historical progress because it has the running boy on it, which was the school logo for many years."
The running boy sign travelled all the way from Florida so that Russell could carry the sign over to the school and hand it to Rohdie personally on Monday.
"It is in desperate need of some work but you can see it has a historical antiquity," Rohdie told the Post. "We are going to restore it and clean it up and work on getting it up in conjunction with our new building."
Greenwich Country Day School was originally an all-boy school, so now that it is co-ed, the new emblem is a running boy and girl side-by-side. But Rhodie said the old sign holds historical significance – and it tells a great story.
"This is the kind of story and lore that great, independent schools are all about," he said.