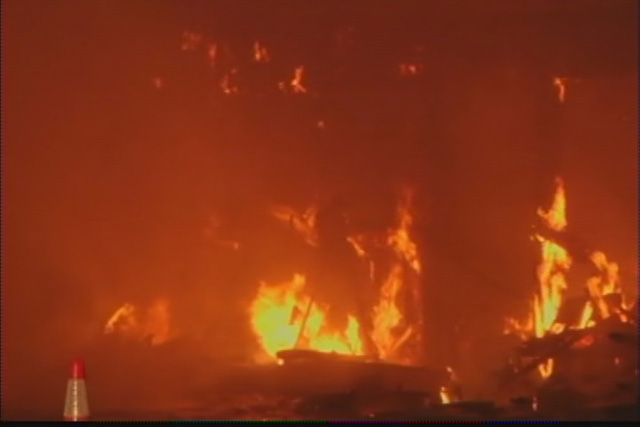 There is now a criminal investigating into the fire that destroyed much of the Oakdale plaza in Montville on Tuesday morning. And officials say the nearby fire hydrants were not actually built to put out fires.
The fire started around 1:15 a.m. on Chapel Hill Road on Tuesday and quickly spread, damaging eight businesses.
Montville Fire Marshal Ray Occhialini told the Norwich Bulletin that officials do not know the cause of the fire but suspect it is "criminal in nature."
It appears that the fire started in Oakdale Café, a new bar that was scheduled to open in the plaza. Within hours, the bar was a charred shell of a building and several other buildings sustained heavy damage.
Part of the challenge firefighters faced was the lack of usable fire hydrants near the strip mall.
An official from the Southeastern Connecticut Water Authority, a private organization that owns the hydrants, told the Day of New London that the hydrants are meant to clean the residential drinking water supply but not extinguish fires.
Gregory Leonard, general manger of the SCWA, said systems would have to be "super sized" to be used for fire hydrants.
To battle the fire, nine tankers had to haul water from Oxoboxo Lake.
"If we had water here available here at the street, it would have made a big difference as far as getting the fire out quicker," Lt. Micah Messer, of the Montville Fire Department, said.
The plaza, which is next to a firehouse, includes a pet grooming business, a bar, Oakdale Pizza and a Chinese restaurant.
The fire caused more than $1 million in damage and put 50 people out of work, according to plaza owner Kim Diamantini.
She says she wants to knock down the damaged structures in the next week or so.