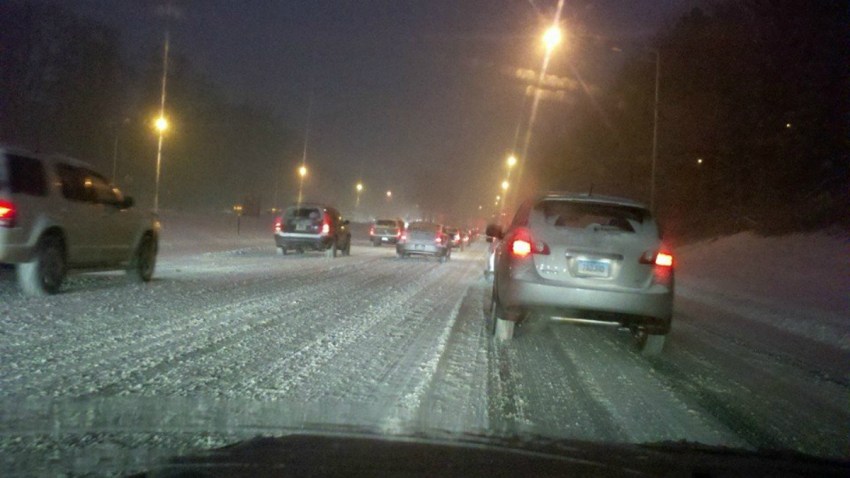 State police responded to dozens of accidents as snow caused tough driving conditions across the state on Tuesday.
Heavy snow began falling just before the afternoon rush hour, making travel treacherous along highways and secondary roads.
Police closed Route 44 over Avon Mountain twice on Tuesday afternoon because the road became too dangerous to drive. Plows cleared some of the snow and the mountain reopened around 4:15 p.m.
Gov. Dannel Malloy partially activated the emergency operations this afternoon to monitor storm conditions heading into afternoon rush hour.
"After talking with my emergency management officials and assessing the situation, we will be partially activating the State Emergency Operations Center at 1:00PM today," Malloy said in a statement. "This will allow us to quickly respond to any problems that may arise as a result of today's storm. I am asking everyone to take it slow as you head out for your afternoon commute."
By 7 p.m. the snow should began to wind down, but not before causing headaches for thousands of drivers.
The timing of the snow posed a challenge for superintendents, who had to decide early this morning, before the snow started, whether to close schools, have students take a full day of classes or release them early.
As of this afternoon, there are more than 670 school closings and early dismissals.
Winter weather advisories remain in effect for all of Connecticut until this evening.
DOWNLOAD THE NBC CONNECTICUT WEATHER APP
In advance of the snow, the state Department of Motor Vehicles canceled all morning road tests for Tuesday and then canceled the rest for the entire day.
If you have a road test scheduled, call the DMV to choose a new date. If you are in the Hartford area,call 860-263-5700 or 800-842-8222 if you are outside the Hartford area.

Check the forecast online here at any time.

Sign up to receive closing alerts here.
Check the closings here.

When you get snow, we want your photos. Send them to us at shareit@nbcconnecticut.com.