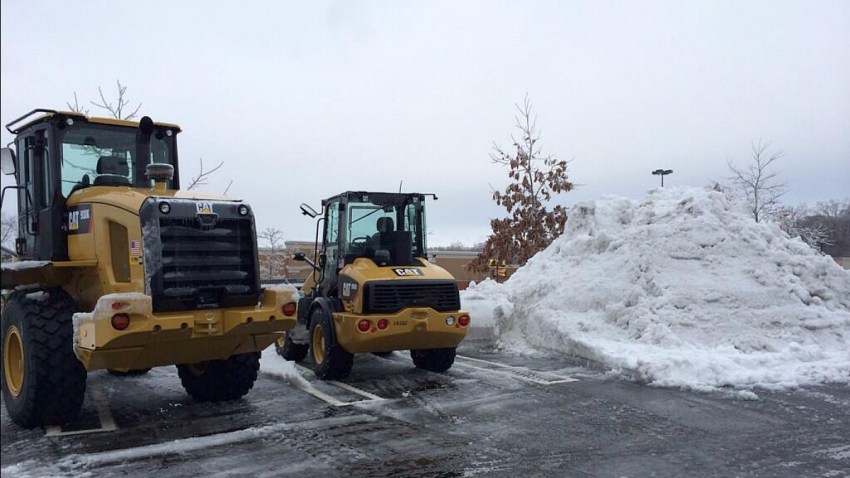 This weekend's winter storm has moved out, and crews are working to clean up the roads, many of which are still a little slick, according to Meteorologist Bob Maxon.
Meteorologist Bob Maxon says road conditions have improved dramatically over the past couple hours and will continue to do so. Streets were especially slick early this morning after snow turned to sleet and freezing rain.
The Department of Transportation fleet was out in full force earlier today, with all 632 state trucks out on the roads. An additional 200 contractors were brought in at the height of the storm, accoding to a spokesman for the DOT.
The DOT expected to have the roads cleared by about noon and said conditions will continue to improve as the sun comes out and helps to melt the ice.
Town public works departments have also been sending out crews to help treat the roads.
Snow began falling early Saturday morning as a winter storm moved up the coast toward Connecticut.
Between 5 and 8 inches are distributed through most of the state. New Haven to Hartford has received about 6 inches of accumulation. The highest snow totals reported are in Union, which received 9.5 inches, according to Meteorologist Ryan Hanrahan.
A light wintry mix continued to fall through mid-morning but precipitation has stopped in most areas. Expect gusty winds moving east today. This afternoon, we'll see temperatures reaching the low- to mid-30s.
Colder weather will creep back in later this evening, though, and Meteorologist Bob Maxon warns of re-freezing, as roads are expected to ice over again.
Flight cancellations at Bradley International Airport started around 5 p.m. Saturday. This morning, 22 flights were canceled because those planes weren't able to land at Bradley last night.
Additional flights are delayed this morning but a regular schedule should be restored later in the day, according to spokesman John Wallace. Crews worked overnight to clear the runways and parking lots.
Airport crews worked overnight to clear runways and parking lots and spent the morning de-icing planes. Travelers are urged to contact their airlines for information about the status of flights.
On-street parking bans remain in effect for several cities and towns around the state, including Hartford, Meriden, Hartford, West Haven, Middletown, Farmington, Glastonbury, Montville, Plymouth, Southington, Watertown, Norwich and Woodbridge.
Parking bans have been lifted in New London and Waterbury.
Check here for a full list of parking banks and storm closings still in effect.
By 11:30 a.m. Sunday, AAA had responded to 232 emergency calls in Greater Hartford and the eastern part of the state, compared to 1,000 calls on Saturday. Most callers requested towing, jump starts and tire help, according to a AAA spokesperson.
Sign up to receive closings and delays sent to your phone.
Share your weather photos with us by sending them to shareit@nbcconnecticut.com.