With warmer air making it feel a bit like summer - we may have to deal with a few thunderstorms Saturday morning across the state. A nose of unstable air will push north in southern New England around daybreak and this may be enough to fire a cluster of strong thunderstorms in the morning.
Many of our high resolution models show a round of thunderstorms tomorrow morning and that's not surprising given the brief instability spike. The NCAR ensemble has strong odds of CAPE exceeding 1000 j/kg across Connecticut tomorrow morning which should be enough for storms.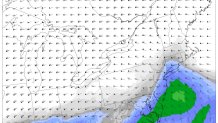 One thing to watch is there is a fair amount of effective shear for these elevated storms tomorrow morning. While strong winds are quite likely (a shallow layer of cooler and stable air near the ground should preclude damaging wind) the combination of CAPE and shear may allow some vigorous updrafts to develop resulting in heavy rain, lightning, and even small hail.These daybreak storms aren't uncommon in these setups. Once in a while they can produce severe weather but this doesn't seem like one of those times.
As the storms move east a westerly wind develops which should allow very warm temperatures even to the beaches. Enjoy it!