Temperatures were quite warm today. Inland areas climbed into the low to middle 80s, the warm weather was even experienced along the shoreline where temperatures reached the middle 70s.
Stepping out this evening? The weather will be quite pleasant with partly cloudy skies and temperatures falling into the upper 50s and low 60s.
We're monitoring the threat for strong thunderstorms early tomorrow morning. Here's a look at 'First Alert Future Radar' which shows a line of storms moving through the state.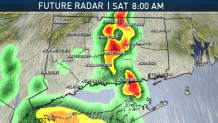 Some areas could see lightning, gusty winds, and even small hail.

We're forecasting the storms to move into the state between 4 and 6 a.m. The storms will move through the state rather quick and should exit by 9 a.m.
The weather will turn gorgeous by tomorrow afternoon. A wind out of the west will allow temperatures even along the beaches to reach the upper 70s.
Here's a look at our forecasted high temperatures for tomorrow.