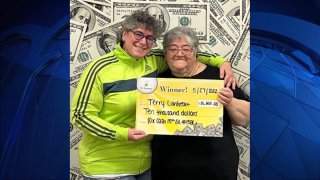 A mother-daughter duo just got a little richer.
Terry Lionheart and her daughter, Amy live in Danbury, where they always go food shopping together at a major supermarket, the CT Lottery said.
After a long day at work, Amy was too tired to take them food shopping, so Terry headed out solo to a bodega for some groceries.
Right nearby was a Tropical Deli, a place Terry always wanted to buy scratch tickets from but had never stopped in
"I bought one last 10X Cash (15th Edition) ticket and brought it home. Normally, I scratch them as soon as I get them, but for some reason, I didn't play it until the next day over breakfast. I scratched row two and won $2,000, and a couple of rows later, I won another $8,000," Terry told the CT Lottery.
The timing of the $10,000 prize couldn't be better for the duo.
All of the money will go into the new house Amy recently bought, just for the two of them.