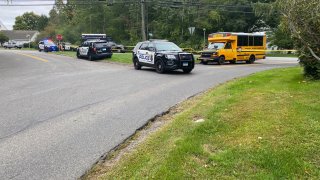 A motorcyclist is dead after he collided with a school bus in Torrington on Wednesday morning, police said.
Authorities said the crash happened in the area of Torringford Street and Greenwoods Road at about 6:15 a.m.
Dispatchers said LifeStar was called to pick up a patient from the accident. The man was taken to a nearby hospital where he was later pronounced dead, authorities said.
Police later identified the victim as 24-year-old Zachary Zecchin, of Winsted.
According to investigators, there were no kids on the school bus at the time of the collision. The bus driver also wasn't injured.
The road was closed for several hours while officials conducted their investigation, but has since reopened.
Anyone with information is asked to contact police at 860-489-2000.