Part of Interstate 84 East in Union was closed for more than four hours Monday morning after a multi-vehicle crash but the road is now back open.
The crash closed I-84 East between exits 73 and 74. Connecticut State Police said it was at a "standstill" at exit 73.
According to Massachusetts State Police, "there is some sort of a pile-up" that closed the highway about a mile before the state line.
Troopers in Massachusetts said they were called as backup for the crash, but could not respond.
The crash was reported shortly after 5 a.m. It is unclear how many vehicles are involved or if anyone was injured.
A second crash has happened in the area of the multi-vehicle crash on I-84 East in Union, according to Connecticut DOT.
The second crash involves a box truck between exits 72 and 73.
Connecticut State Police said it appears that box truck jackknifed and at least two cars spun out in the area of exits 72 and 73. At least two people are being transported to the hospital for minor injuries.
Officials said to expect lane closures.
What was the detour for the crash on I-84 east has reopened after a separate crash closed it on Monday morning.
Route 171 from the Union Fire House on Buckley Highway to the commuter lot at I-84 at exit 74 was closed for a separate incident involving a jackknifed tractor-trailer, Union Volunteer Fire Department said in a Tweet.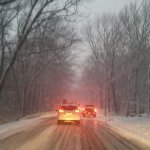 Traffic was backed up onto Route 190 and surrounding areas, firefighters said.
Schools in Union originally had a two-hour delay for Monday, but later decided to close.