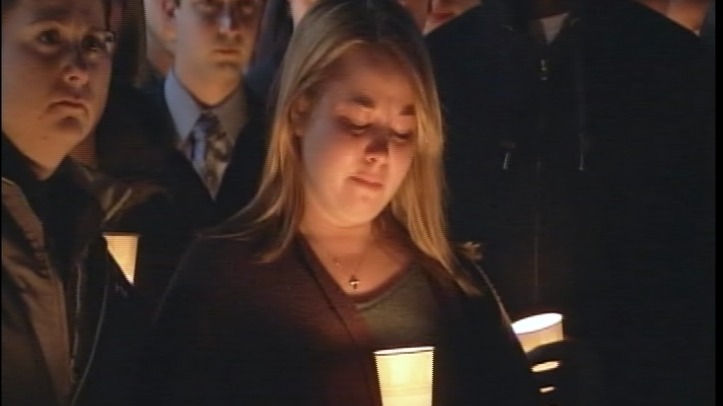 About 200 UConn students braved the frigid temperatures to say goodbye to one of their own.
Friends and classmates of David Plamondon, 20 gathered near the corner where he was struck and killed by a campus shuttle bus Tuesday night. They held candles, shared words and even sang a song in tribute of their fellow student.
"I think Dave had the kind of spirit that isn't going anywhere anytime soon... He's with all of us," said friend Taylor Schwertley.
Plamondon was an aspiring doctor who was active in community service and loved to sing. He was apart of the campus singing group, 'A-Minor'. Members of that group started off Thursday night's candle light vigil by singing Billy Joel's 'Lullaby'.
"He had sort of this rocker soul," said Jasmine Kehrhahn, President of A-Minor. "He really had a gift."
Plamondon, who's originally from Westminster, MA, was returning from studying in the library when he was struck. Friends nicknamed him 'the Bear' because they say he would often hibernate while studying. The famed campus rock is now painted in memory of the student. Flowers and candles surround the monument. And on one side it reads: 'And the Bear Goes to Sleep.'
Friends say the loss is just now sinking in.
"It's just a send off for one of our good friends. That's all...I mean nothing is gonna change what happened," said friend Stephen Grimalli. "Time is gonna make it a little easier, but we're giving him a proper send off, it's what he would have wanted."
"This is all of his friends, all of the people who loved him coming together and keeping in our hearts," said Schwertley. "He'll always be there."
The investigation is still open. The driver of the bus has not been charged.