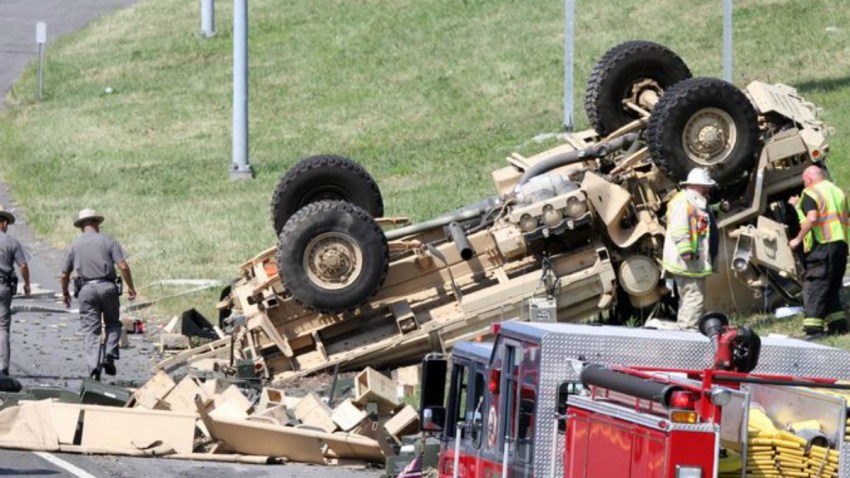 A Connecticut National Guard soldier from Bridgeport was killed and a soldier from Shelton was injured when a military vehicle transporting spent shells from a training exercise to Fort Dix, New Jersey, was involved in a crash on Interstate 95 south in Port Chester, New York, on Thursday morning, according to the Connecticut Army National Guard.
The National Guard identified the soldier who was killed as Staff Sgt. Ronald Patterson Jr., 43, of Bridgeport, Connecticut.
The solider who was injured is Sgt. First Class Kayla Anne Downey, 31, of Shelton, Connecticut.
Both soldiers, from A Company, 192nd Engineer Battalion, Connecticut Army National Guard based out of Stratford, served in Operation Iraqi Freedom and received numerous awards and decorations for their service.
The military vehicle they were in, a Light Medium Tactical Vehicle (LMTV), flipped over and both were ejected, NBC New York reports.
Patterson was killed and the driver, Downey, was taken to the hospital with serious injuries. She was listed in critical condition following the crash but her condition has since been upgraded, according to Col. Micheal E. Wieczorek, Chief of Staff of the Connecticut Army National Guard.
The driver of the other car was also taken to the hospital, but no information has been released on that person's condition. According to NBC New York, that person was the only occupant of the second car.
Wieczorek said the LMTV was traveling with another military vehicle at the time of the crash. The two soldiers in that vehicle were not injured.
The National Guard is offering support services to both families involved as well as other members of the military who need assistance.
"Our thoughts and prayers are with the family of Staff Sgt. Patterson and with Sgt. 1st Class Downey and her family," said Maj. Gen. Thaddeus J. Martin, adjutant general and commander of the Connecticut National Guard, in a statement on Friday. "The full resources of the Connecticut National Guard will be available to the families and fellow Soldiers of Patterson and Downey who have been affected by this tragedy."
Wieczorek said during a news conference Thursday afternoon that all military drivers receive 40 hours of classroom training, 40 hours of training in their vehicles and undergo annual safety briefings.
Wieczorek said both military and civilian law enforcement agencies are investigating the cause of the crash.
Two small American flags that had been placed in the rubble drifted in the breeze. Gov. Dannel Malloy has ordered that all U.S. and state flags be lowered to half-staff in honor of the victims.
"We join the Connecticut National Guard in mourning the loss of one of our brave soldiers, and our prayers for a quick and full recovery go out to the soldier who was injured," Malloy said in a statement Tuesday afternoon.
Flags will remain at half-staff until the soldier's funeral, Malloy said. The date of the funeral has not yet been decided.