A team from the National Weather Service came to Litchfield County Thursday and toured Sharon and Kent to determine whether a tornado touched down Wednesday.
In addition to visiting in person, the National Weather Service also looks at videos from storm watchers and residents in the area of the tornado warning, like the one issued in Litchfield County Wednesday. None of the videos they've seen indicate a tornado touched down yesterday afternoon.
Still, the National Weather Service compares radar images to photos of the damage before making the final call.
The terrain in the northwest hills of Connecticut posed a challenge for the National Weather Service Thursday.
"One of the problems in this area is just all the narrow, windy roads up and down the hills," Stephen DiRienzo, of the National Weather Service in Albany, said.
The National Weather Service visit comes after storms caused damage along the side of the road on Route 7 in Kent and trees and branches came down. Police blocked a section of the road near Kent Falls State Park.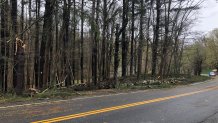 On Cornwall Bridge Road, Route 4, in Sharon, a large tree was hanging on top of power lines.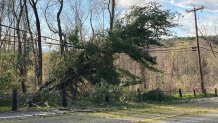 Stories from LX News
LX, or Local X stands, for the exponential possibilities of storytelling in our communities.
Weather in New England is always interesting and snow flurries fell the day after thunderstorms and a tornado warning.
"I think this is the first time I've ever surveyed the day after in the snow though," DiRienzo said.