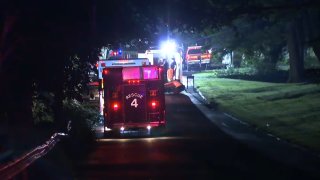 A man who was last seen in Waterbury earlier this month was found dead on an island in the center of the Naugatuck River on Tuesday, police said.
Police said officers and firefighters responded to the area of Platts Mill Road and Radnor Avenue at 3:41 p.m. after a hiker found a body.
Police have been investigating and said they determined the person found dead was 30-year-old George Fiallos, of Waterbury, who was last seen in Waterbury on July 16.
He had not been reported missing. Police said he was known to go missing from family for periods of time.
It's not clear how long Fiallos was in the river or how he got there. Police said the cause of his death is pending further study.
Police are handling the case as a criminal investigation but said there are no indications that there is any threat to the public.
Police are asking anyone with information to come forward.
Naugatuck Police can be contacted at 203-729-5221 or the department's anonymous tip line at 203-720-1010.