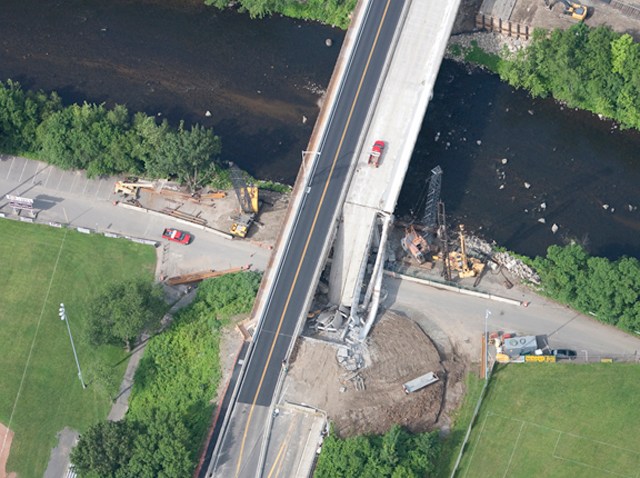 The company working on the Naugatuck bridge that collapsed on Tuesday was fined tens of thousands of dollars last year for safety violations for bridge work in Falls Village,.
Southington-based Brunalli Construction Co. was replacing a span of the Route 63 bridge over the Naugatuck River when it collapsed on Tuesday, causing one serious injury. Anthony Mariano, 59, of Middlebury, was in the process of moving an excavator when the bridge went down, police said.
The Occupational Safety and Health Administration cited Brunalli Construction in April 2009 for safety violations on a Route 7 bridge that crosses the Housatonic River.
And when OSHA performed an inspection in December 2008, they found that employees on the site were exposed to several hazards, including "drowning hazards and a damaged guardrail system."
"The significant hazard of a four-story plunge was exacerbated by the lack of required lifesaving rescue equipment," said C. William Freeman III, OSHA's area director in Hartford, said in a news release issued in April 2009. "While it's fortunate no fall or drowning occurred, the potential for a fatal or serious accident was real and present at this jobsite."
OSHA issued three "willful citations," Brunalli agreed to correct the violations and is in the process of paying an amended fins of $140,000, according to the U.S. Department of Labor.
OSHA's office in Bridgeport has received no complaints about the Naugatuck jobsite, according to the Department of Labor. OSHA conducted a planned inspection at the site in November 2009 and cited the company for three "other than serious recordkeeping violations." The company corrected the violations and paid a $900 fine, according to OSHA.
Judd Everhart, spokesman for the Department of Transportation, said the current investigation is the early stage as they try to figure out what exactly caused the bridge to come down.

"I can say that Brunalli construction is very highly regarded in the business and they have done a number of projects for the DOT in the past," he told the Register Citizen. "Today's incident appears to be completely almost a freak accident, totally under investigation and no one is speculating on it."

Mariano was taken to Yale New Haven Hospital, where he was reportedly in critical condition Tuesday.

Approximately 14,800 vehicles cross the Route 63 bridge every day, according to the DOT. It was built in 1961 and was last renovated in 1986.