A push of mild air will settle into the region through the end of the week. High temperatures for Thursday and Friday could even break records.
A few rain showers are expected Wednesday morning with partly sunny skies by afternoon. High temperatures are forecasted to reach the low to middle 50s.
Temperatures will be quite warm on Thursday with high temperatures in the low to middle 60s inland.
The shoreline will experience some dense fog especially during the morning hours Temperatures will struggle to make it out of the 50s.
The record high temperatures in Bridgeport for Thursday and Friday is 60 degrees. It will be a stretch to reach 60 on Thursday however it's more likely on Friday.
Temperatures for February have generally been above normal. In fact Bridgeport current ranks as the 9th warmest February in history. We predict 2017 will rank in the top three warmest Februaries.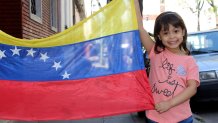 Records for inland Connecticut are kept at Bradley International Airport. Average temperatures for February are around 1 degree above average.
Unsettled weather moves in for Saturday as a cold front advances through the region. We're forecasting rain and thunderstorms Saturday afternoon. The front moves through Saturday night and allows for much cooler air to move in for Sunday and the start of next week.