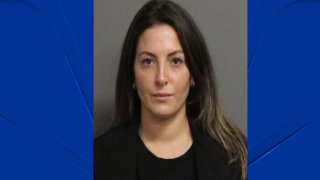 A New Fairfield school employee is under arrest, accused of sexually assaulting a student.
Police began an investigation on Jan. 17 after they were contacted by New Fairfield High School administrators who received information about an employee possibly having inappropriate contact with a student.
A child who attended a gathering with friends on Jan. 13 told a parent that one of the friends left the gathering for a short period of time and then returned and was behaving oddly, according to police. The child told the parent that they later learned that the friend left the party to meet up with an adult woman and that they believed the encounter was sexual in nature.
Investigators spoke with the alleged victim who told them they had been communicating through private messages on social media for several months with the woman, identified as 31-year-old Andie Rosafort, of New Fairfield.
Rosafort was a cafeteria aide at the middle school, according to School Superintendent Ken Craw. She is no longer employed by the school district as of Jan. 18, Craw said.
The student told police Rosafort had sent unsolicited sexually explicit images and videos as well, according to investigators.
The student told police on the night of Jan. 13, Rosafort asked to meet and asked for the address to pick up the alleged victim. The student said Rosafort picked them up and drove a short distance away where they had contact of a sexual nature, according to police. The alleged victim felt uncomfortable, got out of the vehicle, and returned to the gathering, police said.
During the investigation, detectives examined the phones of the student and Rosafort and discovered photos and videos that matched what the student had described, according to police.
State police were granted a warrant for Rosafort's arrest. She turned herself in to state police in Southbury Monday morning. She is charged with second-degree sexual assault, enticing a minor by computer, and risk of injury to a minor.
She was released on $100,000 bond and is scheduled to be in court on March 1.