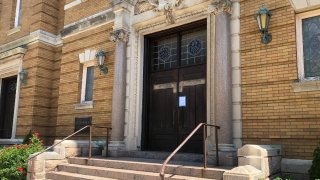 A New Haven church canceled masses and other services on Thursday after it was vandalized overnight, according to the church's pastor.
St. Mary's Parish posted a message on Facebook Thursday that words and symbols, including a satanic one, had been painted on the doors of St. Joseph's Church on Edwards Street.
The vandalism was discovered around 6 a.m.
The message from Rev. John Paul said the church would be closed for the day and that its two daily masses, confessions, and afternoon Adoration were canceled.
It was unclear if the church would be able to open on Friday, Rev. Paul said.
New Haven police said they were looking into details on the vandalism.
The Archdiocese of Hartford posted a statement on its Facebook page about the vandalism. It said the incident was part of a nationwide trend of attacks on Catholic spaces.
"The underlying motive of these sacrilegious attacks is clear: to intimidate and instill fear in the hearts of those who worship Christ. However, our cherished Catholic faith has survived for 2,000 years in the faces of many different oppressors, and it is not about to yield now," the statement read.