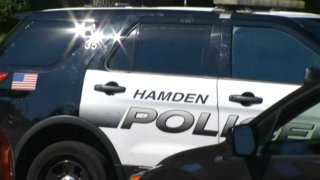 A New Haven man has died after being shot in Hamden late Saturday night.
This all unfolded around 11:15 at the Wilbur Cross Commons, an industrial park, located on the Connolly Parkway.
Police say that a man had gotten into a physical confrontation with other people during a party when he was shot.
Bystanders helped administer medical aid until first responders arrived, according to authorities. The man, identified as 39-year-old Anthony Pearson of New Haven, was taken to Yale New Haven Hospital where he was pronounced deceased.
Investigators believe Pearson was shot during an apparent family dispute. No arrests have been made as of yet and those involved are continuing to cooperate with investigators.
Several guns that were found on the property that night were seized by investigators. Hamden Police are working with the state attorney's office on investigating this incident.
Anyone with any information is being asked to contact Hamden Police Detective Andrew Lipford by either phone at 203-230-4000 or email at alipford@hamdenpd.com.