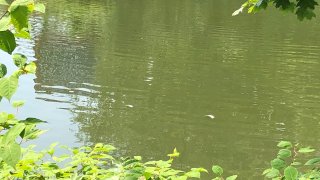 Clean up is underway in New Haven on Wednesday after sewage spilled in the Mill River earlier this week.
Officials said the spill happened on Monday and by Tuesday at 1 p.m., the pipe was off.
Authorities estimate 2.1 million gallons of sewage went into the Mill River over the course of several hours on Monday.
An NBC Connecticut crew saw at least 10 dead fish in the river.
Crews are cleaning up the spill and officials said construction crews are replacing a pipe segment. There were plans in place to replace the pipe before the storm, however, authorities said the spill happened the day before the construction was set to begin.
As a precaution, nobody is allowed to swim in the Mill River until water testing results come back, New Haven Health Director Maritza Bond said. The results should be in this afternoon, she added.
The Health Dept. plans to conduct additional testing on Monday and Wednesday to ensure the water is safe going into the weekend.
The Department of Energy and Environmental Protection, which helped New Haven respond, said typically there is little remediation that can be done in these kinds of spill.
"ERU staff finished monitoring the sewer main break yesterday. Staff did not observe a fish kill in the spill area, and no visible solids were observed in the Mill River. Typically there is minimal remediation that can be done for such an event.  If there is evidence of solids, DEEP would expect the municipality to have crews perform clean up of the solids.  We don't recommend chlorination, as the impacts from chlorination are often worse than potential impacts of the sewage spill. Potential for bacterial impacts typically dissipates after 48 hours," DEEP officials asid in a statement.
DEEP said the spill is not expected to affect the water at Hammonasset Beach State Park or Silver Sands State Park, but there will be water quality testing done Thursday.