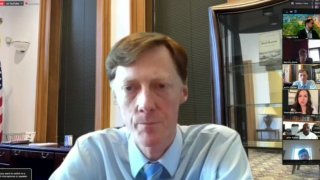 The city of New Haven conducted an operation against dirt bikes and ATVs Sunday that netted nine arrests and seized 12 bikes, New Haven Police assistant chief Karl Jacobson said.
"ATV and dirt bike riding has been a problem that has existed in New Haven," Major Justin Elicker said.
Elicker said these riders are "disrespecting our laws, terrorizing our neighborhoods."
Two arrests and four of the seizures took place in West Haven, Jacobson said.
One of the seized bikes was stolen, police said.
"It is time for it to stop. The city of New Haven has no tolerance for this behavior," said Elicker.
The mayor said it is a priority of his to get this issue under control.
"We are aware the reckless riding of quads and dirt bikes seems to plague our community every spring and summer," said Police Chief Otoniel Reyes.
Plain clothes officers are being used in these operations and a drone was used for surveillance. Security camera footage is currently being reviewed for possible further enforcement.
Download the NBC Connecticut App for the latest on the coronavirus pandemic, including live news conferences, a town by town breakdown of the latest cases in our state and push alerts with breaking news updates
"We will make further arrests," Jacobson said. "If you did not get caught yesterday, it doesn't mean I won't be showing up at your door very soon."
Elicker said he has spoken with other mayors in surrounding towns and other communities around the state, including Hartford, and said they will be working together.
The riders yesterday were given summonses because of the COVID-19 pandemic, but in the future could face felony arrests, Jacobson said.
"The community needs to know the lawless riding of ATVs and dirt bikes on city streets will not be tolerated and as challenging as effective enforcement may be, we will continue to address this," said Reyes.  Those who would endanger public safety and ruin our quality of life will be held accountable."
The seized bikes will remain in the custody of the city, said Jacobson.
"We're just trying to get this under control," Jacobson said.
Two officers were injured in the operation but are now back on duty.