A New Haven firefighter who was in critical condition after a fire Wednesday morning is improving, according to fire officials.
Fire officials and the mayor held a news conference Thursday afternoon to provide an update after the fire, which killed one firefighter, Ricardo Torres, Jr., and left another, Lt. Samod Rankins, in critical condition.
State police are investigating the fire.
Torres, 30, lost his life early Wednesday morning when he went into a burning home at 190 Valley Street to attempt to rescue people believed to be trapped inside.
New Haven Mayor Justin Elicker said the city has received an outpouring of support after the tragedy on Wednesday morning.
Torres also has a young family with another child on the way, according to Patrick Cannon, president of New Haven Firefighters Local 825.
A GoFundMe page has been set up to support the Torres family. Those interested in donating can click here. GoFundMe has verified this page and that the funds will go to the family.
Lt. Rankins is at Bridgeport Hospital. He was listed in critical condition. Fire officials said Thursday that his condition is improving and Fire Chief John Alston Jr. is at the hospital with his family.
"Lt. Rankin's condition has been steadily improving and Chief Alston wanted to be with the family," Assistant Fire Chief Justin McCarthy said.
His family is grateful for the prayers and released a statement Thursday:
"Thank you for all of your prayers, concerns, phone calls, and support thus far. We would like to thank the New Haven Fire Department, Bridgeport Fire Department, and all the surrounding fire departments throughout the country, Mayor Elicker, Pastors, Clergy, Alders, and other government officials. As we all know, Lt. Rankins is strong and a fighter. Please keep him and the family in your prayers. We would also like to extend our most sincere condolences to Firefighter Ricardo Torres Jr.'s family. Please keep them in your prayers as well."
The two other firefighters, Tyrone Reed and Tyler Skolnik, were injured and officials said they have been released from the hospital.
McCarthy said the fire department is also grateful for the donations and for support coming from across the country. They are asking people to stay away from the Valley Street area, where the fire happened.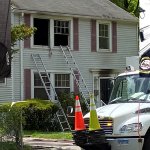 State police are investigating the fire and said they will not leave the scene or the city until all their work is accomplished. They could be out there for several more days, officials said.