The New Haven police officer facing charges in connection to a crash in Las Vegas that killed another officer last week faced a judge Thursday morning.
Officer Robert Ferraro, 34, was formally charged with one count of driving under the influence with death.
If convicted, that charge in Nevada could carry a minimum sentence of 2 to 5 years up to a maximum sentence of 8 to 20 years, according to Ferraro's attorney, Gabriel Grasso.
Ferraro initially faced a reckless driving charge but Grasso said he did not see that charge on the docket.
After negotiations with the prosecutor, Ferraro was taken off house arrest, which would have required him to stay in the Las Vegas area, according to Grasso. Ferraro planned on returning to Connecticut while awaiting his next court appearance, Grasso said.
Las Vegas police say Ferraro was behind the wheel of a car when it crashed Friday morning, killing passenger Joshua Castellano, a fellow New Haven police officer.
According to Las Vegas investigators, witnesses in the area saw a 2020 Rolls-Royce speeding down a Las Vegas street before it crashed into another car, utility poles, and a fire hydrant around 4 a.m. on Friday. Police added that the car also flipped over several times after that. According to the arrest report, no one in the car was wearing a seatbelt.
The arrest report also states that Ferraro refused field sobriety tests despite showing signs of impairment. Investigators were granted a search warrant to draw his blood for testing.
Authorities said due to the impact, Castellano, 35, was ejected from the car and was given life-saving measures at the scene. He was then taken to the hospital but later died from his injuries.
"No one disputes in this case that this case is a horrible tragedy. It really is," Grasso said after Thursday's court proceeding.
He said Ferraro and Castellano were high school buddies who went through the police academy together and later became partners in the New Haven Police Department.
"This is not just a best friend that passed away, this is a police partner that -- a police force partner that passed away," Grasso said.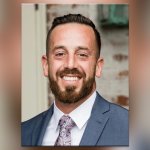 In addition to Castellano, there were three other New Haven officers in the car, including Ferraro, who was driving, officials said. Two women from San Antonio, Texas were also in the car, according to the accident report from the Las Vegas Police Department.
The other passengers in the car and the driver of another car involved suffered minor injuries, police said.
Ferraro, Castellano, and the other New Haven officers would take annual trips together, but the group had not traveled recently due to COVID-19. This was the first trip in a while for them, Grasso said.
He did not know the relationship between the officers and the two women who were in the car.
Ferraro will remain on intensive supervision, Grasso said. He will be required to check in with the court once a week.
He is not required to wear an electronic monitoring device, but he cannot drink alcohol while he is out on bail and he will be monitored for alcohol consumption.
Ferraro is also not allowed to drive as part of the conditions of his release and he must surrender his passport.
A status check in the case is scheduled for October 7, but Ferraro's preliminary hearing will be held in January, Grasso said.