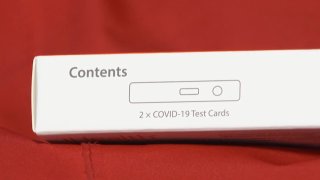 Officials in New Haven say they are facing a huge challenge as they combat surging COVID-19 cases, including how to keep schools open and make testing available across the city.
Schools are still set to reopen Monday. Mayor Justin Elicker stressed that families should not send students to school if they are sick.
"it is our social contract, it is our ethical responsibility to keep our children home if our children have even a cough," Elicker said in a press conference Thursday.
Officials said there are no widespread plans for remote learning at present, but it is possible individual groups may be affected.
Health Director Maritza Bond said the Yale New Haven Health system is seeing significant increases in COVID-19 hospitalizations, including 13 pediatric cases as of Thursday afternoon. There are 252 city residents currently hospitalized, Bond said.
Emergency Services Director Rick Fontana said the city is receiving some test kits Thursday night that will be available for critical staff. These tests are in addition to the at-home rapid tests that the state will provide for distribution to the general public.
Fontana said they are working to manage the thousands of people coming out for COVID-19 tests, and that the numbers are larger than they saw in the first wave in March 2020.
"This is a huge challenge for us," he said, saying the virus is causing staffing shortages across all elements of services.
Elicker said they are anticipating staffing shortages in almost every sector because so many people are getting COVID-19, and that they are working to use testing as a tool to get people back into their roles at work or in school as quickly and safely as possible.