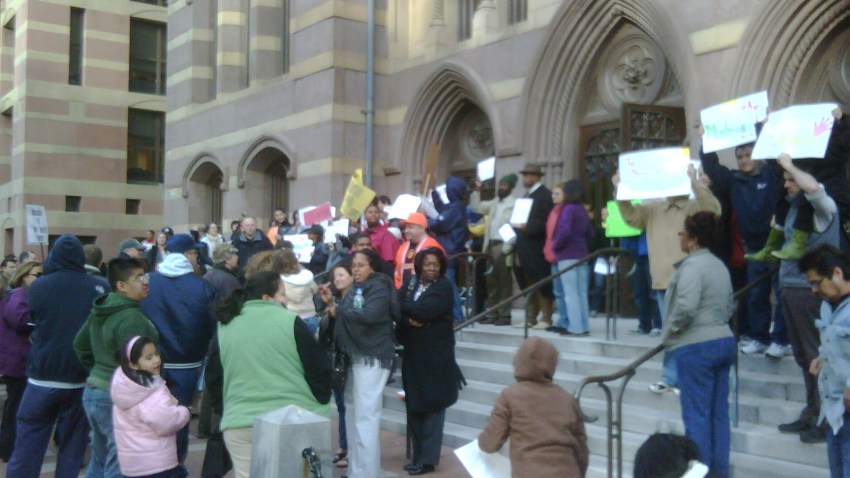 Parents, teachers and students gathered on the steps of New Haven City Hall on Wednesday, demanding that this year's budget put children first and not make any cuts to education.
They took that message to the Finance Committee during the last public hearing on the city's proposed budget.
"If they cut our schools, where are our kids going to go? What are our kids supposed to do? And I'm getting tired of this," Janet Medina, a New Haven parent, said.
The mayor's proposal does support a 2.6 percent increase in spending, which will go toward city services, including public safety and education. But it comes at the cost of higher taxes.
"Our schools are really important, and if you don't have a good school system, your tax base leaves anyway," Jennifer Drury, a New Haven teacher, said.
Others are outraged that New Haven residents are looking at, on average, a 9 percent tax increase. They say they can't afford it.
"Having more taxes on top of the fact that I already pay a pretty high mortgage doesn't seem fair, and doesn't seem like it will work for me," Tokunbo Anifalaje, a New Haven homeowner, said.
Many say they'll be forced out of the city, so they created a petition and collected hundreds of signatures and ideas on how to save the city money. It boils down to each city department cutting its spending by 10 percent.
"Instead of increasing the budget, they should be tightening the belt and finding ways to cut money. They can't keep going back to the customer for more money, because the customer just doesn't have it," said Brian Virtue, who owns a business in the city.
Wednesday night's meeting was the last opportunity for the public to voice opinions on the budget.
Now it's up to the Finance Committee to approve the mayor's plan. Then it goes to the Board of Alderman for a final vote.