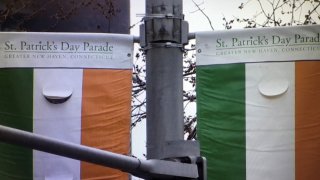 The Elm City is a sea of green during the annual St. Patrick's Day Parade on Sunday.
The St. Patrick's Day parade is one of the most celebrated events in New Haven.
More than 100 groups are marching in the parade.
Every year, there's a special street naming tradition. The city renames a few streets in memory of someone who served the Greater New Haven Irish community in a positive way. This year, three people were honored for their impact.
The parade began on Chapel Street at Sherman Avenue then continued on Chapel Street toward the Green. The route then turned left onto Church Street, down to Elm Street and disbursed by Orange Street.
The parade began at 1:30 p.m. and is approximately 3 hours long.
The event is free to come out and watch.