It's difficult to remember every memory from an almost century of life, but a 95-year-old Newington man will never forget his time fighting in World War II.
"I do have a lot of," John J. Provini said, pausing, during an interview on the 75th anniversary of D-Day. "You know, things that I'll never forget and things that I want to forget."
Provini is a proud Navy man.
"There's me up there in that ship," he said, pointing to a picture of himself as a teen on the wall. "He's a good looking guy right?"
The veteran will always remember meeting his lovely wife at a Polish dance in Hartford while he was on leave.
"It was love at first sight. Not for her, but for me," he said.
He'll also always remember the war. He's been sharing more and more stories as he's grown older, even writing a book a couple of years ago to create a written history of his experience.
"We were told to feel for a pulse. The water was 40 degrees. Who could feel anything right?," said Provini.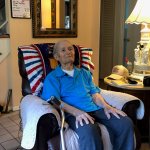 Provini was there during "Exercise Tiger," a dry run for D-Day that turned deadly.
"I remember the deck of the ship very vividly was covered with all bodies and we were told to keep quiet and we were told to not talk about it because somehow or another someone messed up," he said.
That horrific experience made the moments leading up to D-Day even more overwhelming.
"I was sort of a mixture of being scared and being excited and I think one overrode the other and I got through," he said.
While he won't admit it, Provini—a neighbor, father and loved one -- is also one of America's many heroes.
"Oh no, no, no, no, no," he responded.