Those who know the tragedy of a mass shooting all too well held a vigil for Uvalde.
In Newtown on Thursday night, families came out to be with one another in grief but to also demand change.
"We knew it could happen again because if it could happen here in Sandy Hook, then it could happen anywhere. And it has," said Newtown Action Alliance Chair Po Murray.
It's a pain Newtown and Uvalde now share. At a vigil inside the Trinity Episcopal Church in Newtown, families drew strength from one another and offered support for those in Texas who are now navigating incomprehensible loss.
Newtown Interfaith Council and Newtown Action Alliance organized the vigil, saying they want the Texas community to know they're here for them. After the vigil, everyone walked out silently with their candles and marched.
"I have a message for all Americans: Don't think it's not going to happen to you or your family and take action before it does," Murray said.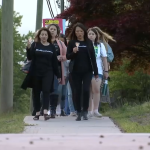 Senator Richard Blumenthal said he's hopeful U.S. legislators will produce what he described as common sense efforts to save lives, including the expansion of background checks. He said gun violence prevention will be on the ballot this November.
"I think we should consider raising the minimum age to 21 for assault-style weapons. In fact, we should consider other measures like requiring a license for them to be purchased because they are military-style weapons that were designed, specifically designed to kill people," Blumenthal said.
Many spoke about wanting to see gun control laws acted on. Jordan Gomes survived the shooting at Sandy Hook Elementary when she was nine years old.
"This is an extremely important issue, and we can never let the pressure up. Uvalde cannot become another tragedy that gets swept under the rug," Gomes said.
The march ended outside the National Shooting Sports Foundation, a firearm industry trade association. A spokesperson said they welcome meaningful discussion to talk about constructive ways to bring resolution to some of these issues, and they want to make sure second amendment rights for law-abiding citizens are protected.
"We are heartbroken over the news out of Texas, and we want to make sure that we're doing our part as the industry to make sure we're providing those real solutions. We continue to work towards those solutions," said National Shooting Sports Foundation Managing Director of Public Affairs Mark Oliva.
Next Friday, Newtown Action Alliance will hold a rally and march from Edmond Town Hall to the National Shooting Sports Foundation. The group said they're going to keep the pressure on and demand change.