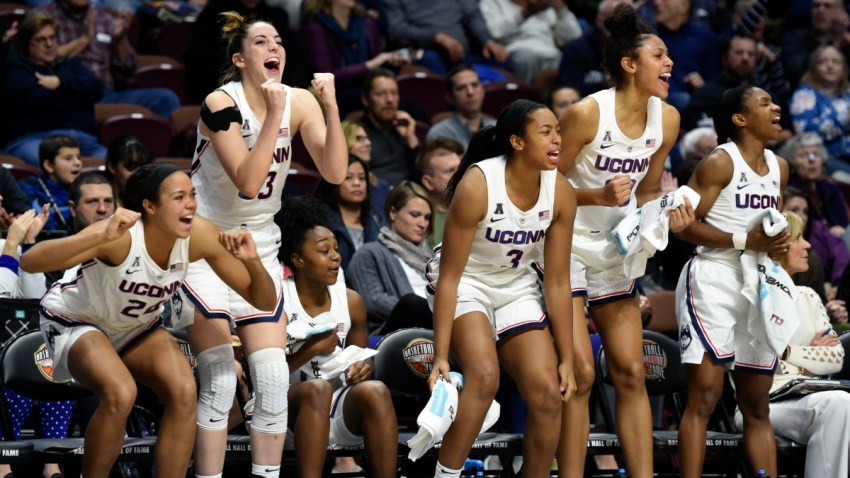 Katie Lou Samuelson scored 19 points, and No. 2 UConn rallied in the fourth quarter for a 65-55 victory over pesky St. John's on Friday night at the Paradise Jam tournament.
Napheesa Collier added 17 points and Crystal Dangerfield 14 for the Huskies (4-0), who survived a challenge from the Red Storm to extend their regular-season winning streak to 119 games.
Tiana England scored 13 points, Alisha Kebbe added 12 points, Kadaja Bailey 11 and Oadashah Hoppie 10 for St. John's (3-1). The Red Storm led by as many as six points in the first quarter, and battled UConn through five lead changes and four ties in the second half.
The Red Storm's last lead came in the opening minutes of the fourth quarter, when Bailey made back-to-back layups for a 51-47 margin with 9:18 left.
However, the Huskies responded with 3-pointers from Dangerfield and Samuelson, the last giving UConn a 53-51 lead with 7:15 remaining. That ignited an 18-4 run to close out the game.
BIG PICTURE
UConn: The Huskies' regular-season winning streak continues, dating to the second game of the 2014-2015 season, an overtime loss to Stanford.
St. John's: The Red Storm have now lost three straight against UConn, which leads the series 41-17. St. John's last win in the series came on Feb. 18, 2012, a 57-56 victory. That was the last time the Huskies lost to an unranked opponent.
UP NEXT
UConn: The Huskies face Purdue on Friday.
St. John's: The Red Storm play Mississippi on Friday.
Copyright AP - Associated Press