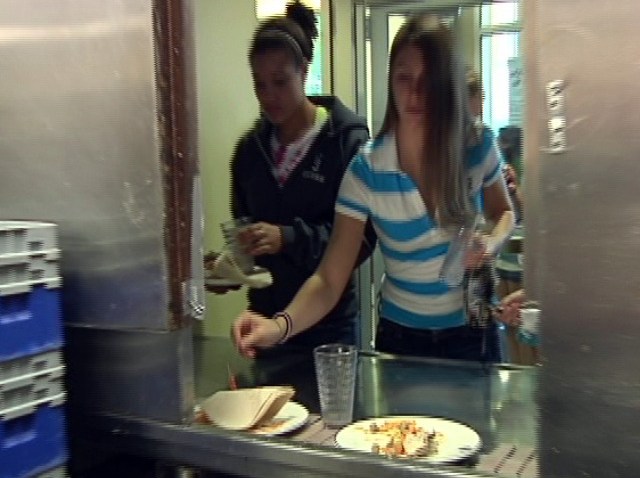 Who's doing the dishes at UConn? Well soon, nobody. A drought has forced the campus to switch from dishes and silverware to paper and plastic.
180,000 meals are served on the UConn campus every week in eight different dining halls which means there's a lot of dishes to wash. "Here in dining services we are probably the second largest consumer of water," said Dennis Pierce, director of dining services.
But with a drought advisory in place, everyone including dining services must cut back on water usage. They'll be switching to paper plates, cups and plasticware. While that may help save water, it may not turn things green.
"You're just gonna end up wasting more paper doing that because paper plates are smaller," said sophomore Amanda Brooks. "When you have a resource that's limited, limited access to and that's water, you have no other choice but to go towards the other one," said Pierce.
Across the campus, students have been asked to cut back. "We've had to take shorter showers and not use so much water," said sophomore Samantha Diaz.
The university has done this before and it will add to the dining services budget. Students say, the switch to disposable dinnerware is an adjustment.
"It really only takes longer because it's a change," said junior Brian Ingmanson. "There should be no reason why it takes longer but students are students and we're going to be resistant to whatever the university throws at us." "It will be an inconvenience from what they're used to," said Pierce.
The last time UConn had to resort to paper cups and paper plates was three years ago and that lasted for six to seven weeks. In this case they'll start using the paper products on Monday.
Follow us on Twitter @NBCConnecticut, on Facebook, and sign up for breaking news SMS alerts on your phone by texting "CTBREAKING" to 622669.
Copyright AP - Associated Press