The nor'easter that is bringing rain and heavy snow to Connecticut on Tuesday is causing delays and cancellations at Bradley International Airport.
More than 40 inbound and outbound flights are currently delayed or canceled, as of 4:15 p.m. on Tuesday. You can see the full list of departures and arrivals here.
The airport said that earlier in the day, approximately 15 percent of flights were canceled. By the late afternoon, the number grew to approximately 40 percent.
Additional cancellations and delays are possible as the winter weather continues.
Connecticut's Airport Authority says that anyone with a flight on Tuesday is urged to check their flight information before heading to the airport.
The airport remains open at this time and snow removal is ongoing.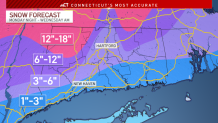 More details on the nor'easter can be found here.