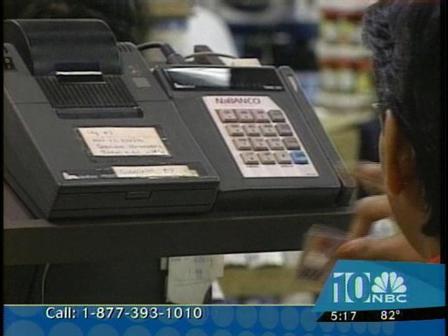 A local fallen hero was honored on the court at the Connecticut Open on Monday night as part of the tournament's Military Appreciation Night. An Honor & Remember flag was presented to the family of Norwalk native Army Specialist David R. Fahey, Jr.
Honor & Remember is a national nonprofit working to establish an official flag honoring fallen American service members – and to place one in the hands of each fallen hero's family.
Long before he saw combat in a war zone, Nowalk-born Spc. Fahey had already fought some battles in life. He lost his father at a young age. Despite some turbulent years in his youth, he remained optimistic and focused on his future.
"He could have been very cynical," said Fahey's aunt Cari Ettinger of Milford, who helped raise him. "He could have been mad at the world and why me, why me - no. Never."
Fahey dreamed of becoming a police officer, and enlisted in the Army in August of 2007 to get military police training. After a one year tour in Korea, his unit deployed to Kandahar Province in June of 2010 – an assignment he volunteered for.
"He actually asked for Afghanistan," Ettinger recalled. "Even though we were like no, no…. he wanted to make a difference."
Even in an active combat zone, home was never far away from Fahey's mind, as evidenced by the numerous phone calls, letters and cards sent home.
"He would call and talk to me, tell me how he just wanted to come home and have a normal life," Ettinger said tearfully. "He wanted to buy a house, and start a family."
Those dreams were cut short on Feb. 28, 2011. An improvised explosive device exploded under the MRAP vehicle Fahey was driving. He was killed instantly, just three months before he was set to come home. He was just 23 years old. Fahey was buried in New York state next to his father, and was posthumously awarded the Bronze Star, Purple Heart and Combat Action Badge.
Nearly four years later, Ettinger says she finds comfort in precious memories. Her most treasured possession is a teddy bear Fahey sent her for Valentine's Day two weeks before his death. She brings it to ceremonies honoring Fahey and other veterans around the state.
Plans are underway at the State Capitol to dedicate the Richards Avenue I-95 overpass in Norwalk in Fahey's name. Staffers for Senator Bob Duff told NBC Connecticut the ceremony is planned for mid-September – a lasting tribute to a native son who paid the ultimate sacrifice.
"He can't be here," said Ettinger. "But he can be remembered for being here. I'm not going to let him just fade to black. It's not going to happen."