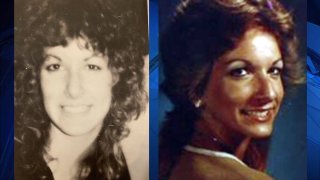 There has been no sign of April Grisanti since the night of Feb. 1, 1985 and Norwalk police continue to search for answers to solve the 38-year-old case.
Police said Grisanti was last seen leaving Anthony's Bar on Main Street at 12:15 a.m. that morning and her ex-boyfriend, James "Purple" Aaron, forced her into his vehicle and headed north on Main Street. She has not been seen since.
Police said Grisanti and Aaron had gotten into an argument earlier in the day and he was arrested days later, convicted and he was incarcerated until December 1991.
Police are asking anyone with any information on April's disappearance to contact Detective Daniel Serio of the Cold Case Unit at 203-854-3188.
You can also submit information anonymously on the Norwalk Police Department's Telephone Tipline at(203) 854-3111 or the Norwalk Police website. Anonymous TEXT tips can be submitted to TIP411 (847411) by typing NORWALKPD into the text field followed by the tip.