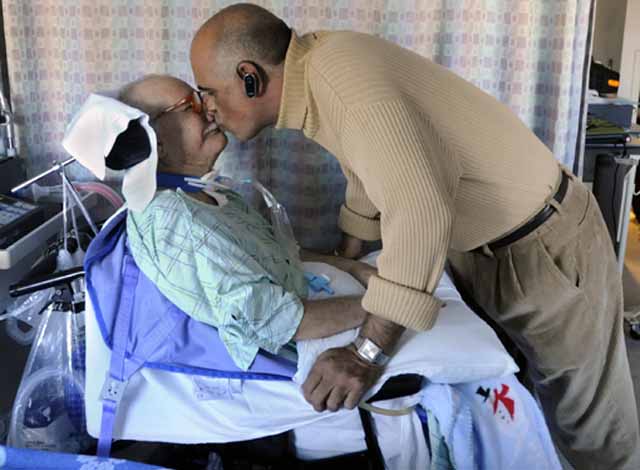 A relative of the man who ran down Angel Arce Torres on a Hartford street in 2008 is entitled to the $10,000 reward for turning him in. A Hartford Superior Court judge made the ruling Wednesday afternoon after an emotional hearing where the victim's son urged him to withhold the money.
"Your honor, this lady does not deserve this reward," said Angel Arce, the victim's son. "We get our justice and then the state waits until we start to heal and slaps us in the face with this."
Torres, 78, was hit while crossing Park Street while crossing Park Street in May 2008. It happened as one driver chased another. The vehicles fled the scene and police released surveillance video to elicit leads in the case. Instead of leads, that video sparked national outrage because it showed several cars drive by Torres as he was lying injured in the street.
Torres died one year later. That's when Ana Santiago came forward saying she saw one of her relatives, Luis Negron, chase after a car that day. She also told police in a written statement that she heard him confess two weeks later.
Police confronted Negron and he confessed, according to prosecutors. He eventually pleaded guilty and is serving ten years in prison.
"Here's this person that knew from the beginning. For an entire year she hid this guy, your honor. She hid him," said Arce.
Prosecutors said withholding the reward money would be bad public policy and set a bad precedent that could keep other witnesses from coming forward in other cases.
"Whether I like it or not, she has the most rightful claim to that money," said John Fahey, the prosecutor in the case.
In the end, the judge agreed. "It was because of Ms. Santiago's decision, however late it might have come, to provide this information to police that Mr. Negron was brought to justice," said Judge David Gold.
In making his ruling, Judge Gold pointed out that Negron may still be walking the streets had Santiago not come forward.
"Did she do it as expeditiously as she should have? Unquestionably not, but the law does not carry within it a time limit," said Gold.
Arce left court outraged.
"She's entitled to a $10,000 reward? She hid him for a year."
Follow us on Twitter @NBCConnecticut, on Facebook, and sign up for breaking news SMS alerts on your phone by texting "CTBREAKING" to 622669.