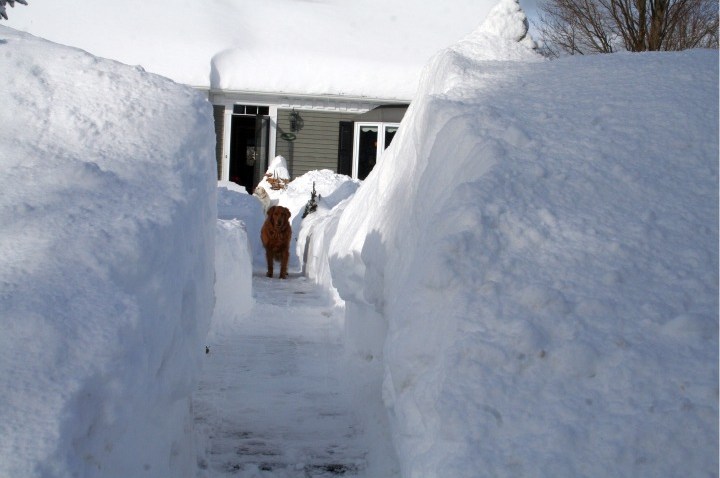 More than a day after the Nor'easter dumped a record amount of snow on New Haven, many of the city's streets remained snow covered. Huge snow banks were piled up on street corners and cars were still buried.
For residents on these small streets, it's been a frustrating couple of days.
"I helped neighbors dig out," said Jeremy Hultin. "It takes 45 minutes per car, you go through the trouble you get off the street and you expect when you come home at night they're going to have plowed the street."
But when Hultin came home Thursday evening, it wasn't plowed.
New Haven did issue a parking ban in order to clean each side of the street but many cars remained buried and untouched.
Mayor John DeStefano said the only way to keep the streets clear is to get the cars off of them.
"I just can not have residence and structures inaccessible to emergency vehicles," said Mayor DeStefano. "We're trying to jam all these cars and snow into these narrow streets."
The mayor hoped to have the situation under control in the next 24 hours.
Under the parking ban, cars must be parked on the odd side of the street from 7am to 3pm on Friday.
State police responded to 69 crashes between 10 p.m. on Tuesday and 10 p.m. on Wednesday and 1,776 calls for service. Many of the calls were for motorists becoming stuck in snowbanks. spinning out off the road, being unable to move due to slippery roads, running out of gas and vehicle breakdowns.
State Police are reminding motorists to reduce speeds because of slippery spots on many roads, highways, entrance and exit ramps.
The plows are still out, and friends of NBC Connecticut on Facebook said roads are terrible in Hartford and bad in East Haven and Groton.
Residents of Wethersfield and Newington said the side streets are still covered.
Durham, Haddam and Killingworth are getting great reviews for clearing the roads, as are Willimantic and Bolton.
For those who travel via Metro-North, the trains are back ion a weekday schedule on Thursday morning. Passengers should still expect crowded trains and possible delays.
However, service in Waterbury is still suspended. Buses will be available there instead.
Today will be a catch-up day for Bradley Airport. Flights began to resume on Wednesday afternoon and airport officials hope everything will be back to normal by Friday.
Police ask homeowners to avoid throwing snow from driveways or sidewalks onto the streets. Troopers are also advising home owners to attempt to reduce the snow pile heights at driveway entrances to increase sight line to oncoming traffic.
To find out how your town compares to others, check the lists that Bob Maxon posted on the forecast page.
Several cities and towns have parking bans in effect. Check here to see if your town is among them.
How are your streets? Comment on our Facebook page.
We're also looking for the best places to go sledding.