Temperatures once again surged into the 90s throughout Connecticut.
A heat wave is when there are three or more consecutive days with temperatures at or above 90 degrees.
Norwich Public Utilities has issued a power alert and urges its customers to conserve power. For more on the power alert click here.
The high heat and humidity has also led to several cities and towns opening cooling centers. Click here for a list of cooling center throughout the state.
The chances for showers and thunderstorms increase as we head into the evening hours. The thunderstorms could include heavy rain, lightning, and gusty winds. While it doesn't appear the storms will be severe there is a chance a few of them could be on the stronger side.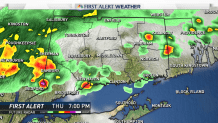 Conditions dry out for Friday and Saturday before a rain threat moves in by Sunday afternoon.
Right now we're forecasting showers and thunderstorms to develop Sunday afternoon and continue into Monday.