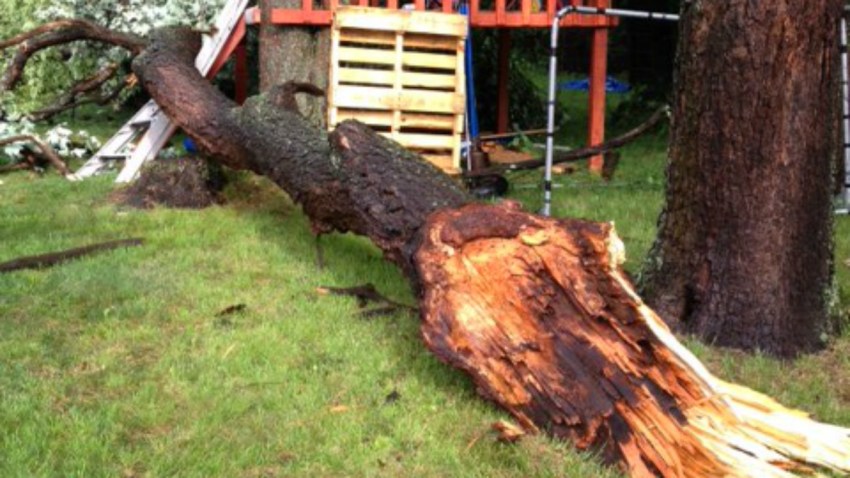 North Haven police said they believe a microburst or small tornado struck the west side of North Haven near the Hartford Turnpike corridor on Tuesday.
The National Weather Service estimates that multiple microbursts brought 90 to 95 mile per hour winds to the hardest hit areas of the state, not tornadoes.
Officials from the fire department said they started receiving calls at 4:34 p.m. with reports of trees coming down, trees falling onto house and telephone poles in the road.
To deal with the damage, firefighters were called back and all three volunteer fire companies were deployed.
They discovered most of the damage was on Hartford Turnpike, from Upper State Street to Mount Carmel Avenue, as well as on the side streets of Todd Drive, Todd Drive South, Koczak Court and Christine Road, where hundreds of trees came down.
Dozens of houses and cars were damaged and power lines were down, fire officials said.
Streets were blocked and firefighters went door-to-door, checking 100 residences to see whether anyone was injured, assess property damage and prioritize needs.
Residents with advanced medical needs were evacuated and firefighters ensured that family members were home to care for elderly occupants.
Officials called United Illuminating Co. to turn off power to the area as crews cleared debris, some of which was entangled in power lines.
United Illuminating was reporting 363 power outages in North Haven at one point. There are still 282 power outages as of 8:30 a.m. on Wednesday.

Building officials were called to determine structural integrity of homes or condemn them.

Firefighters also escorted to safety several residents who decided not to stay in their homes on Tuesday night.
Police said they will continue with high-visibility patrols in affected area.
While it might be tempting to explore the affected neighborhoods, police are asking that residents remain home for their safety and the safety of emergency crews.

Town officials reached out to the National Weather Service to investigate damage.