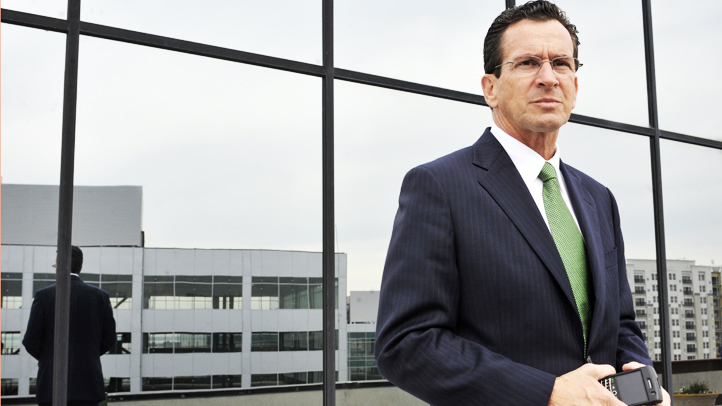 It's down to the wire for the Huskies and Wildcats, and Connecticut officials are making wagers on the outcome of tonight's championship game with their Kentucky counterparts. At stake are some unusual prizes.
The Governors

Gov. Dannel Malloy is betting Connecticut wine, beer and chocolate that the Huskies win while Kentucky Gov. Steve Beshear is wagering a fully-stocked Kentucky bourbon bar that his Kentucky Wildcats will win.

"The UConn men, led by Coach Kevin Ollie, are in the midst of an amazing season, and our whole state is behind them for the win," Malloy said. "The Wildcats are a formidable team, but I am confident that the Huskies will bring home another championship title."

The wine Malloy is wagering comes from Jones Family Farms in Shelton, the beer is from Two Roads Brewing Company in Stratford and the chocolate is from Munson's.

Beshear said his University of Kentucky Wildcats are having an unbelievable tournament.

"The Wildcats' momentum will continue tonight and carry them past UConn, to UK's ninth NCAA men's basketball championship," Beshear said in a statement. "Governor Malloy is a terrific governor and friend, but come Tuesday morning, he will be shipping his wager to Bourbon and Wildcat Country!"

Should UConn win, Malloy will receive a Kentucky bourbon basket created from a half-barrel from Maker's Mark and it will include Woodford Reserve, Maker's Mark, Wild Turkey, Jim Beam, Bulleit Bourbon, Four Roses, Evan Williams, Elijah Craig, Town Branch, Willett, Old Pogue, Michter's and Corsair Bourbon. The barrel also will include barware, glasses, apparel and accessories to conduct a priceless bourbon tasting.
U.S. Representatives
Malloy and Beshear aren't the only officials placing bets on the title game.

U.S. Rep. Joe Courtney, a graduate of the University of Connecticut School of Law, is betting a gift basket of eastern Connecticut signature treats, including Munson's Chocolates, Selbuort Valley Farms Maple Syrup, Cato Corner Cheese, Deep River Chips, Jarmoc cigars and Cottrell Beer, should Kentucky win.

U.S. Rep. Andy Barr, of Kentucky, is betting signature bourbons, candies and treats.

"Coach Ollie has been masterful in this post-season, and the Huskies looked cool and confident on Saturday in their win against top-seeded Florida," Courtney said. "Kentucky is always tough, but Shabazz Napier and his team look tougher. I'm looking forward to a repeat of 2004 this year, with UConn's men and women earning national titles."

Barr said the Windcats have had one of the most difficult paths to the Championship game ever, but they are ready avenge the loss to UConn in the 2011 Final Four.

"Tonight's matchup will be another hard fought battle, but these Cats have proven their ability to win in the clutch," Barr said.
U.S. Senators

Sens. Richard Blumenthal and Chris Murphy have made a wager of their own.
They're betting against Sens. Rand Paul and Mitch McConnell from Kentucky and will turn over Stew Leonard's brownies and UConn Dairy Bar ice cream if the Huskies fall short. If they win, the Kentucky senators will hand over some Kentucky Derby-Pie from Kern's Kitchen in Louisville, according to a release from Blumenthal's office.

"Bleeding blue and betting with pride – trusting that Kentucky's Senators won't be tasting UConn ice cream or Stew Leonard's brownies – because the Huskies will be dominant," Blumenthal said in a statement Monday.
"Outside of Connecticut, no one gave this team a chance. No one thought that this team—the team left out of conference realignment, the team with a second-year coach, the team ineligible for post-season play last year—could be as talented and unbelievable as they have been," Murphy added.
The Kentucky senators weren't convinced, however.
"A 9th national championship for the University of Kentucky and some Connecticut ice cream and brownies will be the perfect finish to yet another thrilling NCAA tournament for the Cats," said McConnell.
Attorney Generals
Connecticut Attorney General George Jepsen will offer Connecticut wine if Kentucky takes the title, while Kentucky Attorney General Jack Conway will serve up a Kentucky ham if the Huskies win, according to a release from Jepsen's office.
"Year after year the Connecticut Huskies have been the right team to wager on and I have grown accustomed to annually receiving a Kentucky ham from General Conway," Jepsen said in a statement Monday. "This year should be no different and as the Huskies prepare to smoke the Wildcats, I will prepare for victory by getting my carving board and appetite ready."
Conway is just as confident in the Wildcats, and said Tuesday, "The Wildcats are on a roll, and I think the NCAA championship trophy will be headed back to Kentucky for the third year in a row."
The UConn Huskies are in contention for their fourth national title since 1999.

The game starts at 9:10 p.m. in Arlington, Texas.